Signature Leather & Equine Performance - an exclusive Australian partnership.
'You touch me, I feel you - your Signature is my command"
We proudly bring you the original and best in bespoke equestrian gloves by Signature Leather, UK. Drop into our store, at 142 Bocks Rd, Oakille, NSW for a private consultation and viewing.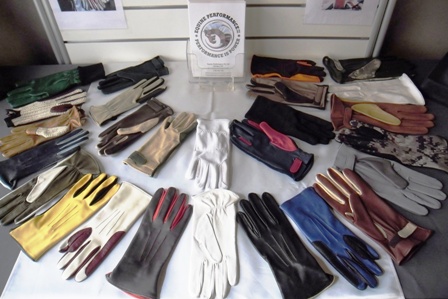 Signature Leather riding gloves are hand-made in Britain, using the finest English leather, by artisans employing the tools and skills from a bygone era in the art of traditional glove making, a time when fine styling and perfect fit were paramount to equestrian turnout.
There is no such thing as an "off-the-rack" pair of Signature gloves. Each pair is custom made to order, requiring six to eight weeks to fashion. This provides customers with a truly bespoke service, to create gloves in a personal colour choice of leathers and threads, and to be unique in today's world of the mundane and mass-produced.
From traditional classics to bright vibrant hues, there are colours to suit every taste. From national, team or stable colours, to coordination with tack or attire, Signature Leather can accommodate your choice in seeking the perfect match. Be inspired by the palette of over 50 colours to be individually YOU!
Due to the many variations in bespoke Signature gloves, we cannot accept orders through this website shopping cart. Please contact us for assistance and personal service. We look forward to helping you choose the perfect riding, driving, or show gloves, and can advise on the options available. Please call toll free 1300 886968 (yes, evenings and weekends are fine), or email your enquiry and contact details to sales@equineperformance.com.au
All bespoke gloves require full payment in advance – please allow up to eight weeks for manufacture and delivery.
Standard sizes:
Sport, Crochet and Winter styles -

6.5, 7, 7.5, 8, 8.5, 9, 9.5, 10 (Unisex sizing)

Summer Ladies, all leather glove -

6.5, 7, 7.5, 8, 8.5, 9

(or can be tailored to fit)
Summer Mens, all leather glove -

9, 9.5, 10

(or can be tailored to fit smaller than size 9 or up to size 11)

Childrens' sizes to order from approx age 3 yrs.
For inspirational colour ideas, check out and like our Signature Facebook album
From the plain and traditional black, browns and neutrals, to the eyecatching and unique which speak all about YOU, your choices are limited only by your imagination. Just some of the design options include:
smooth dress glove leather or textured digital leather for superior grip

a palette of over 50 colour choices and combinations, to construct a design just for you

subtle highlights of contrasting thread, wrist welt, and/or tab, to pick up colour highlights in attire

reinforcements on either the index finger, and/or between the 3rd and 4th fingers

perforated palms and/or fingers for cool summer hands

unlined, or lined with silk or cashmere

choice of wrist fittings - loose, vented, or fitted with elastic and/or velcro and tab on inside or outside wrist

short or extended wrist length

standard sizes or tailored to fit (Summer style only)
SIGNATURE SUMMER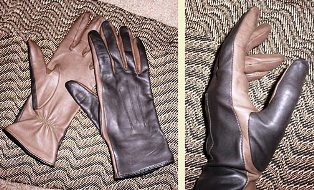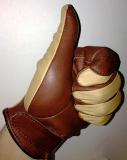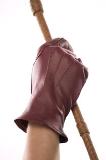 A classical all-leather style to suit all equestrian disciplines, providing a wealth of options to mix and match leathers and colours, and even to contrast the stitching. This glove can be cut to provide a closer, tight fitting palm, or a looser more comfort fit. Choosing different leathers to artfully combine the component parts of fingers, thumbs, palm and back, the individual pieces can be crafted together to construct a totally unique pair of Signature Gloves. Contrasting the fourchettes (finger side panels) with the colour used on the rest of the finger construction provides for maximum impact! Equestrian, or fashion, or a combination of both, the Signature Summer is a timeless design.
SIGNATURE SPORT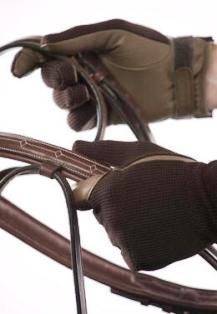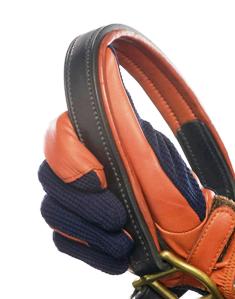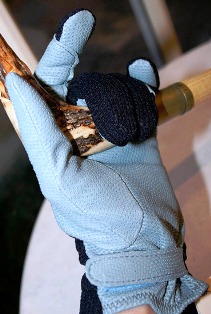 Developed in close consultation with customers worldwide, Signature Sport is styled for ultimate sports performance. Riding, golfing, or wherever close contact is required, whether training at home or competing at the highest level, Signature Sport delivers the edge in refined touch and sensitivity. In all weather conditions, from tropical humidity to the temperate or cold, riders have confidence in hands that are dry, and grip that remains firmly intact. Outstanding performance is delivered with style, and the individual look is limited only by your imagination. The knit backs – in a choice of beige, brown, black, navy or white – can be teamed with smooth or digital leather from a palette of over fifty colours. This abundance of choice offers the opportunity to coordinate your customised gloves with your tack or attire. National, team or stable colours are simply yours for the asking!
SIGNATURE CROCHET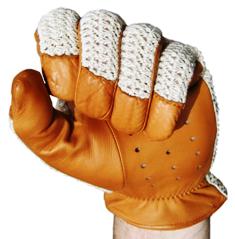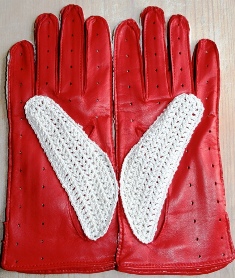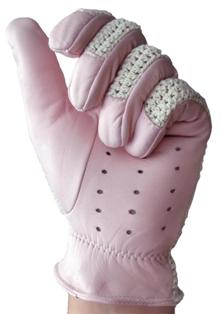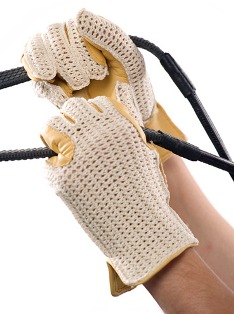 The crochet-back riding glove styling harks back to an era of elegant equestrian tradition. The style has become a firm favourite of riders around the world, and is presented with two different options:
The first is for gloves with the optional utility of leather tipped fingers and a perforated palm, and is styled with a fitted wrist for optimum comfort.

The alternative crochet-back style in the centre photo is designed to provide a slightly looser fit at the wrist, with the addition of a side vent, and works equally well for both equestrian and fashion wear.
German riding magazine "Mein Pferd" commissioned a series of stringent tests on a range of summer riding clothes, and Signature crochet back riding gloves scored a maximum 5/5 points on key scoring factors, including overall quality, comfort and the opportunity to personalise colours.
SIGNATURE WINTER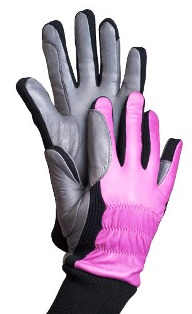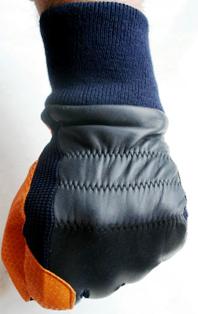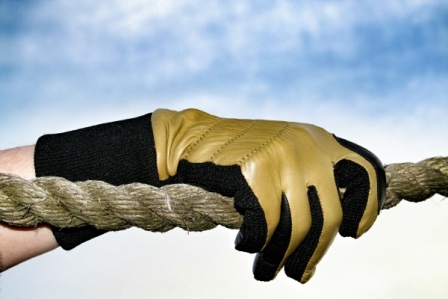 The Winter glove style is a favourite with the Signature Design Team, thanks to the rave reviews on the wonderful comfort and fit provided by the triple elasticated back. This works in tandem with the lining of the glove to provide robust and cosy protection from the worst of weather conditions. Winter gloves can be ordered in a single or two leather colour combination (back and palm), with cuffs and finger side panels in a choice of knit colours. A heavenly soft and warm cashmere lining is offered as an optional extra. And it's not only a firm favourite with equestrians, but also with Apres-skiers and many other outdoor enthusiasts, including those "Walking the Dog".
SIGNATURE "WALKING-THE-DOG"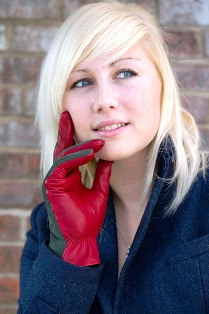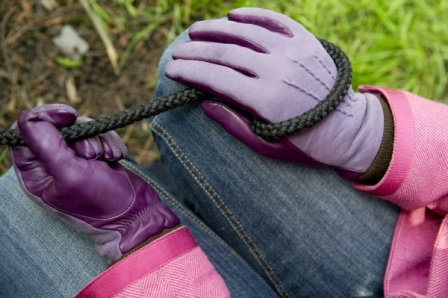 The Signature Winter equestrian glove has found a ready and enthusiastic following among non-equestrian customers. They may not ride, but they do find themselves out in the cold, where a pair of individual, custom-made gloves may provide the perfect accessory – think Show Mums! 'Walking the Dog' for non-equestrians feature the half leather/half slink lambs wool fashion style. It's shown here in a stunning combination of Russian Green lambs wool back contrasted with red leather palm.This style provides the best combination of close contact with the palm, and protection for the back of the hand through the exceptional warmth of the world's softest slink lambs wool. For added cold-weather protection, an optional extended, cuffless mid-forearm length may be specified.
Lamb Slink Colours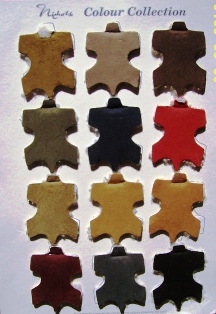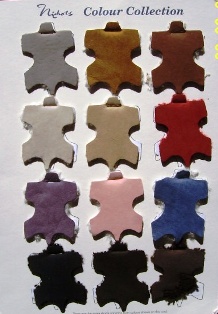 SIGNATURE CARRIAGE DRIVING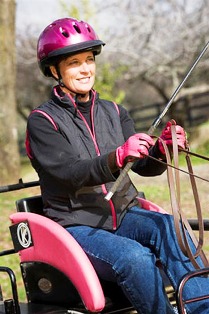 Carriage drivers are catered for with the Signature Sport and Summer Equestrian Glove styles, both of which can be specified with additional reinforcement designed for driving sports.The Summer Glove marries elegance with simplicity in a beautiful style - just right for a tasteful turnout. As the name suggests, the Signature Sport offers a sporty alternative for everyday pleasure driving, training or marathon fun.
SIGNATURE DRESS GLOVE LEATHER COLOUR CHARTS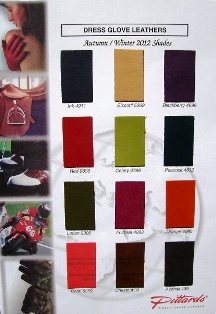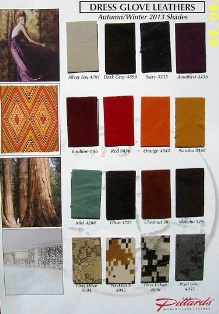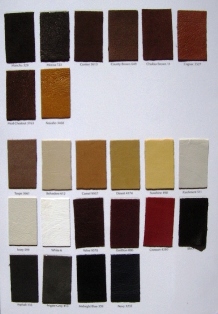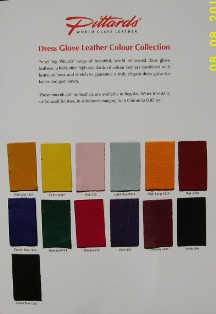 About WR100X Leather
View Pittards World Class Leather on Youtube
The finest close-contact fit required by those at the top of their sport is achieved only through meticulous and experienced selection of the finest leather. As tradition dictates, the hides are table cut by hand before crafting the leather into gloves with the perfect fit. Signature has chosen Pittards World Class WR100X leather for all glove styles because, from the raw material selection to the finished leather, its treatment has created the world's ultimate gloving leather. Modern science blended with traditional craft skills has produced leather with the properties we require for sporting performance.
WR100X leather is the result of exhaustive research, based on the specially selected skins of the hair sheep, found in the sub tropical regions of Africa, Asia, and South America. This sheep has a remarkably soft, strong and light skin, particularly appropriate for close contact and sporting glove applications. As a process, WR100X enhances these characteristics to create leathers of superior performance. The process involves over 40 interrelated operations, each one of which has to be tuned and adjusted to ensure the final technical quality of WR100X leather.
Whilst retaining the original softness, strength, and lightness of the natural skin, WR100X offers unrivalled grip, water resistance, sensitivity, comfort and recovery, features which have made WR100X the performance standard for sports enthusiasts and glove manufacturers alike. Water and sweat resistant, Pittards WR100X leathers not only shrug off moisture and allow perspiration to escape, but do so without changing the structure of the leather.
Leather Features
Water Resistant: The water repellency and resistance in the tanning process enhance the insulation characteristics of the leather. Hands remain warm in cold weather and cool in warm weather, sustaining sensitivity and dexterity, whatever the activity. The permanent structural properties allow moisture to pass through the fibre structure, keeping the hands cool, dry and comfortable in all weathers and conditions.
Enhanced Grip: By limiting water uptake into the fibre structure, Pittard's WR100X leather technology guarantees excellent grip and tactile sensitivity, retaining optimum grip and maximum control for ride after ride.
Excellent Fit: Pittards WR100X leather offers the sporting enthusiast an exceptionally soft touch, a closer and more natural fit, and a unique flexibility in performance.
Sweat Resistant: The fibre structure of regular leather will normally deteriorate and break down after exposure to the acid contained in human perspiration, becoming hard, brittle and inflexible. The Pittard's WR100X tanning processing technology allows the leather to retain its softness, feel and sensitivity for appreciably longer, and guarantees that all properties are permanently bonded to the leather structure, thereby ensuring the benefits of high performance throughout the life of the gloves.
How The Leather Is Manufactured
Raw material selection: Acknowledged as the superior leather glove making material, and therefore the Signature choice, is the skin from the "CABRETTA" (Hairsheep) from Ethiopia and other sub tropical regions. The skins purchased are all by-products of the meat industry in the country of origin. The thin and tough structure gives strength, and allows for maximum dexterity, along with superb durability and premium comfort.
Tanning: After removing the hair, the skins are tanned, in the all-important process of turning them into leather. It converts the skin into a stable, consistent material that can be worked on in many ways to produce different leather types.
Wet blue: After tanning, the resulting product is a distinctive blue shade - known as the 'Wet Blue'. This is a function of the chrome (III) salt used in the tanning process. Skins are then dried and sorted according to type, weight and quality, ensuring that only the very best material is used in the manufacturing process.
Dyeing: After sorting, the material is dyed to the required shade. This process starts to impart to the leather some of its final characteristics. Different processes produce different properties; for example, leather that needs to be highly water repellent will require a special treatment. The unique Pittards WR100X process requires a number of these procedures to ensure properties are permanently tanned right through the leather.
Finishing: Once dyed, the leather is dried and further worked to develop the natural inherent suppleness and only then is it ready to be made into Signature Leather riding gloves.
Leather Care for Pittards World Class Leather
View Leather Therapy Laundry Solutions
For best results:
Wash gloves before they become too soiled.

White gloves should not be washed with coloured articles. Coloured gloves may be washed with articles of a similar colour provided these instructions are followed.

We highly recommend using Leather Therapy laundry solutions, a mild detergent or soapflakes.

Cotton or synthetic washing materials and those containing bleach or Sodium Perborate are not suitable.

Do not use any fabric conditioner.

Do not use strong washing materials as they may damage the leather's performance properties.
Hand Wash:
Produce a good lather in lukewarm water.

Immerse the gloves and wash gently on your hands.

Remove gloves and rinse thoroughly in clean water.

Squeeze out all excess water from the fingers downwards and pull gently into shape.

Hang to dry away from direct sunlight or heat.
Machine Wash:
Wash the glove on the low temperature (up to 30°C) gentle cycle of a domestic washing machine.

We recommend Leather Therapy

laundry solutions, which have produced excellent machine wash results. Alternatively, use mild detergent or soap flakes that are recommended for washing leather and woollens.

Rinse gloves thoroughly in clean water.

Spin gently, pull into shape and hang to dry away from direct sunlight or heat source.

DO NOT TUMBLE DRY OR PLACE ON A HEAT SOURCE

When nearly dry, put the gloves on hand to restore shape and softness.

Remove from your hand and hang up to dry fully.

When dry, place on your hand and buff the surface with a soft cloth. Use a suede brush to restore the nap on suede gloves.
(SL)
| | |
| --- | --- |
| SKU | SL |
| Brand | Signature Leather |
| Shipping Width | 0.050m |
| Shipping Height | 0.010m |
| Shipping Length | 0.050m |
| Shipping Cubic | 0.000025000m3 |
Be The First To Review This Product!
Help other Equine Performance users shop smarter by writing reviews for products you have purchased.
---
Others Also Bought
---
More From This Category